We Are Sharing
Success Stories
MIDAS
I am writing about Midas, a little buff boy that we adopted in January of this year. His name is now Barley. We fell in love the moment that we saw him. He came into our home where he has 2 brothers. Our older boy C.J. became friends right away, but our other boy, Cody, is not going to be his friend, but we have made a way for all of us to live peacefully. Barley is such a joy! He is an orange boy through and through. He is sometimes the silliest boy and sometimes a little cuddle butt. He chooses….
Everyday is a new adventure in the life of Barley. I have enjoyed watching him settle in and understand that this is his forever home. My favorite thing that he does is put his paws on either side of my face and give me a little lick on the cheek.
He's not a little angel, no way, but he is so bad, he's hilarious. Like the other day when he decided the litter box was his playground. He rolled in the litter (it was clean) watched it as it moved and threw out paws full on the floor. He was having a glorious time so I could only watch, wishing that I had my phone to record.
We are so thankful to FurBabies Rescue for giving this guy a second chance. He certainly deserves it. 
~ Jan P.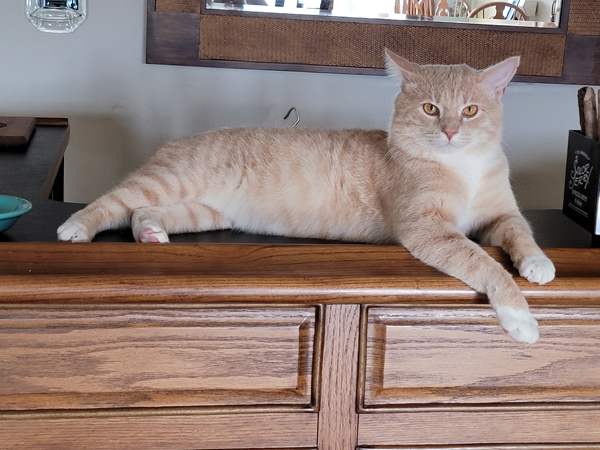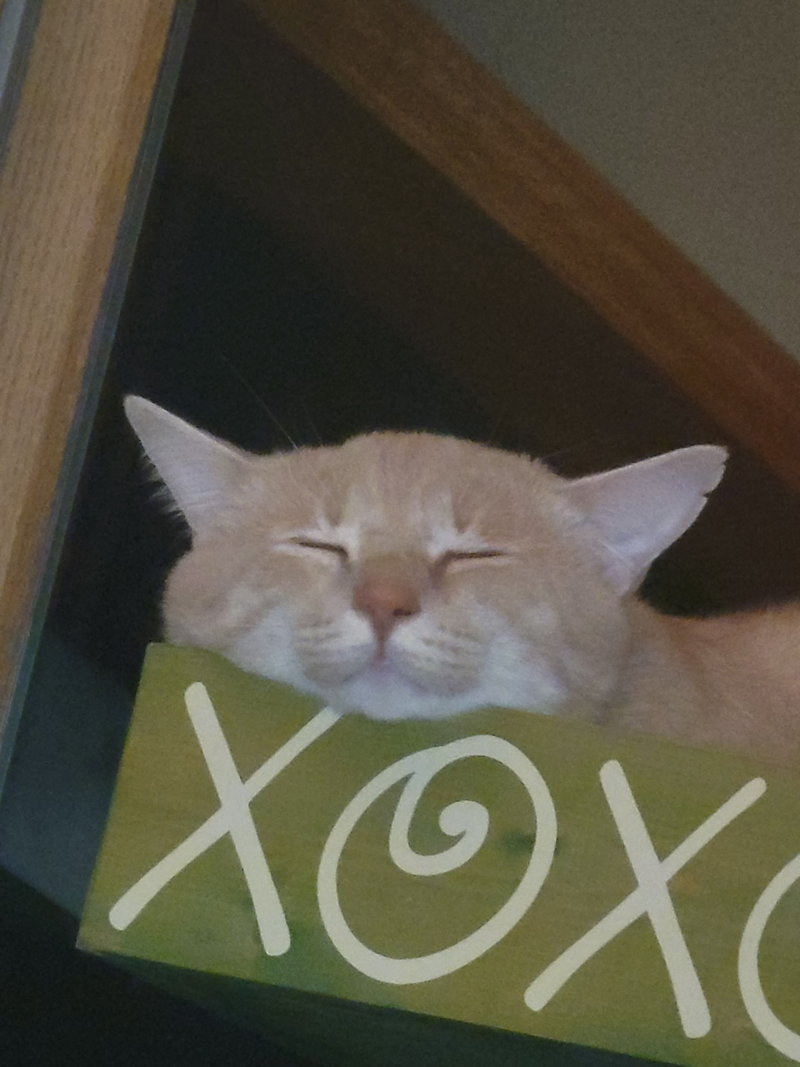 MR. BINX
Mr. Binx, as we call him, has been an amazing addition to our animal loving home! He was adopted from furbabies via The Pet Supermarket. He gets along so well with our 3 dogs, and has started acting like a dog himself. 😂 He follows our dogs around chasing their tails and stands at attention with them for treats. He loves to go outside, but only on the leash for now until he gets a bit bigger. He takes turns sleeping with each of us, and is the best snuggler! He enjoys a good can of fancy feast and any cat toy! His favorite is the wobble toy that dispenses treats and has a feather suspended on top. Having a kitten again for the first time in years has been such an enjoyable and exciting experience! We love Mr Binx and couldn't imagine life without our little wild man!
~ Jessica S.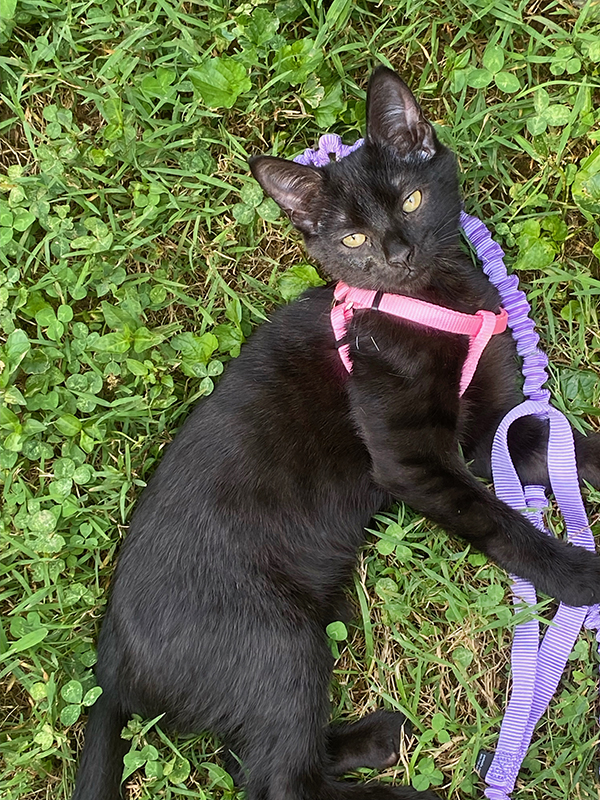 LUCY and BAPHY
In late July of this year, my partner took me to Brews and Mews after I had a tough day. I had planned on adopting two cats eventually… but I wasn't expecting to meet Cow and Chicken (who I've renamed Lucy and Baphy). They changed my tough day into a good one, and they've made each day since having them the same.
Lucy doesn't let her paw deformity stop her from running full speed to nuzzle at my feet when I arrive home from class or work, and Baphy has quirks that aren't as obvious as her sisters missing appendage. She loves to pick up earrings and walk off with them, as well as sit on the shower floor behind the liner while the water is running.
The two of them, who aren't actually from the same litter, wouldn't lead you to believe that; Playing and cuddling together all day, which brings me peace of mind when I'm away. But I'm normally trying to get home as soon as possible to cuddle them anyway.
Thank you Fur Babies Rescue for rescuing Cow and Chicken so that I could meet the perfect match for me, as well as all you do for other cats waiting to find theirs.
~ Grace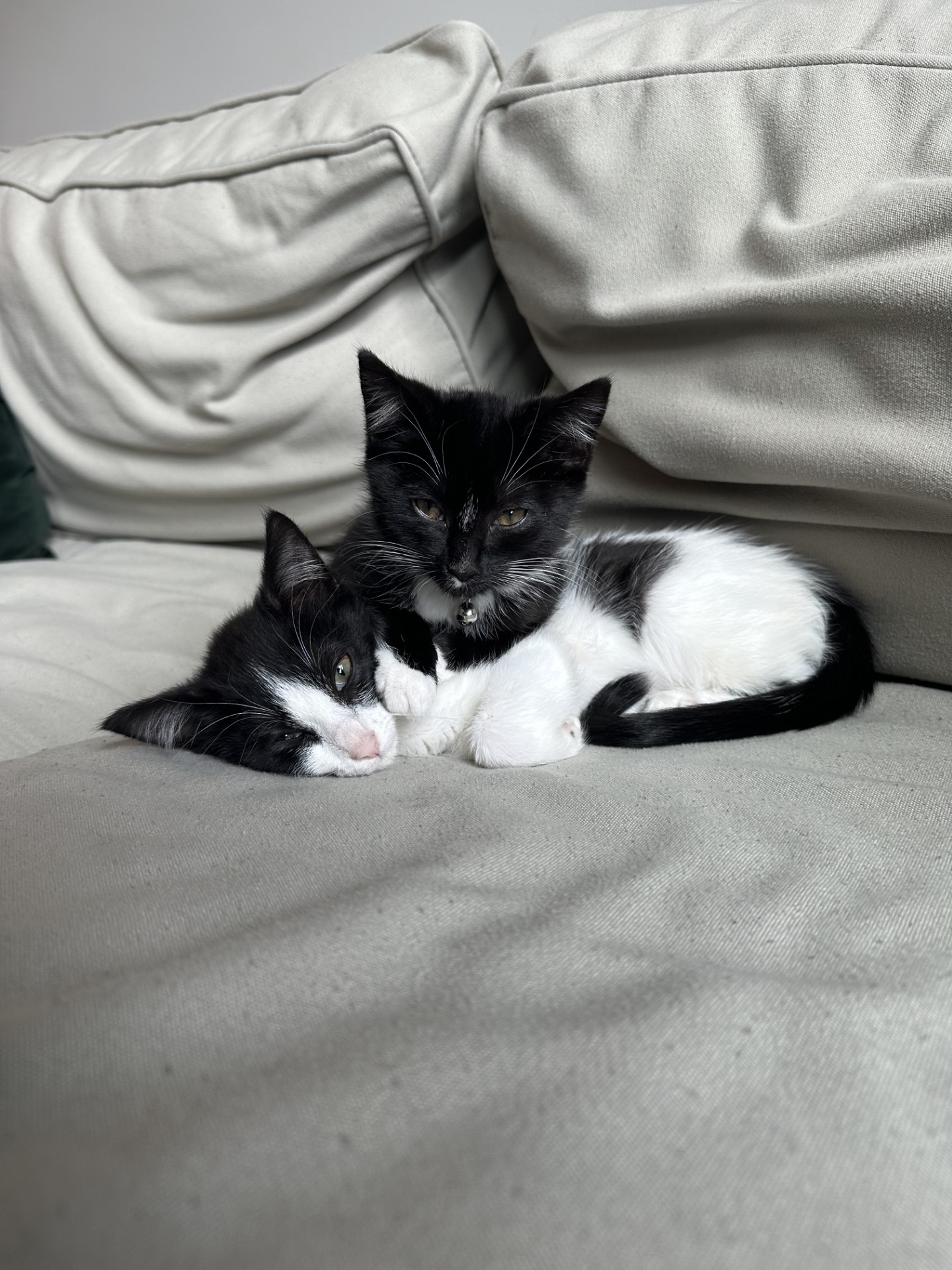 Share Your Success Story
We'd love to hear about your successful adoption from Fur Babies Rescue!